We've all heard "Breakfast is the most important meal of the day". But it may not always be top of mind, or maybe you aren't sure why it's so important. We get it- life is crazy as it is and eating a balanced, healthy breakfast is not on today's task list. We got a simple solution for that "glow up" we ALL need to make it a great day – start your day off with milk! It's an easy source of nutrition and the perfect food to use as the base to break your fast from the night before. It's science people. Check out these facts about why putting your health first starts when you wake up and choose a balanced breakfast!
Thanks to science, here's five reasons why we definitely shouldn't skip it:
1. Being hangry is not a good look y'all…
SCIENCE SAYS: Protein at breakfast can help you feel full and satisfied so you may not be hungry before lunch time. Every glass of milk contains 8 grams of high-quality protein per 8-ounce glass along with 8 more essential nutrients, including calcium  and B vitamins. DANG! What an easy way to boost your nutrition. Try milk as a latte or smoothie  for a get out the door breakfast. Other dairy foods such as yogurt and cheese are also sources of protein to add to the wake-up menu (whenever that may be😉). After all who can learn and be nice when they're hangry? 
2. Your first meal of the day helps prevent smelly breath…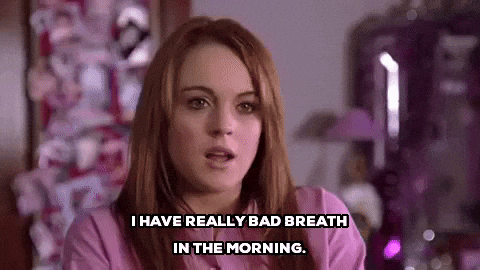 SCIENCE SAYS: While we are sleeping our saliva dries up, which allows bacteria to build up and cause smelly breath! Yikes. We gotchu though, because eating and drinking helps increase saliva flow and mitigate that stench LOL.
3. Students who eat breakfast may have more ENERGY so they can pay better attention.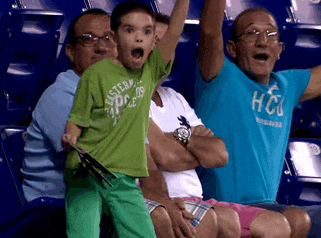 SCIENCE SAYS: Attention, problem-solving skills and behavior tend to be better in those who eat breakfast. A full stomach means you will have lasting energy to make it through the day without losing focus. After all, who can focus with a rumbly tummy?
4. Skipping breakfast means you probably will not get the calcium, Vitamin D and other important nutrients for strong bones. We guess most of you are not worrying about having children or planning for your retirement but guess what, your bones must be built now, so calci-up! When you skip meals it is next to impossible to make up those missed nutrients you need later.
SCIENCE SAYS: When a simple breakfast includes a whole grain serving, a dairy serving and a fruit or vegetable serving, you can increase your intake of important nutrients such as calcium, fiber and protein. A.k.a. MORE NUTRITION! Research shows breakfast eaters have more nutritious diets and tend to be leaner than breakfast skippers. 
5. If I skip breakfast I will cut calories…which is no bueno!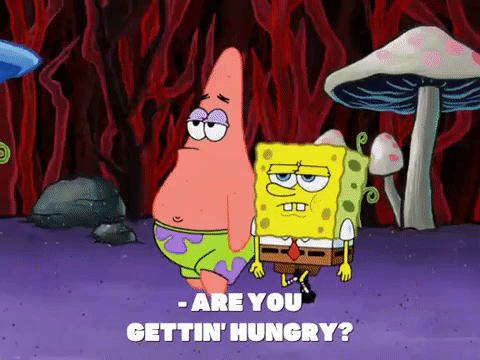 SCIENCE SAYS: Healthy habits start when you wake up (whether it's 6 am or 2 pm- no judgement). Breakfast eaters tend to make better foods choices throughout the day and that just means good vibes overall don't you think? 
Out of excuses? Do something for YOU during your wake-up routine and make a balanced breakfast! We've got some recipe ideas for you:
Which emotion would you remove from the world?
If you had to be locked in a room with one of the following animals, which would you pick?
Bear... like, a small bear
---
I would never lay an unkind finger on any animal, even if they were about to eat me. I know that wasn't the question, but I just wanted you to know.
---
How open are you to new experiences?
I'd say I'm one of the most chill people I know, so I can be down for whatever
---
New experiences make me happier than pretty much anything else
---
I prefer for things to be a little more consistent, honestly. I know what I like!
---
Dancer/actor/singer/designer/bedazzler.
---
Athlete or something where I can stay active.
---
Travel writer/field biologist/park ranger/explorer/entrepreneur/self-employed.
---
Farmer/gardener/teacher/doctor/nurse/professional nice person.
---
Just a little, as a treat... something classic like rocky road.
---
Seek out the most unique flavor in the shop. (Dill pickle ice cream? I'm in!)
---
Do they have sweet cream ice cream? Sure, vanilla's fine...
---
If you bumped into someone in a hallway and knocked their papers out of their hands, what would you do?
I would probably try to help pick them up, but I honestly might get distracted.
---
I'd help them pick up a few papers, and then pat them on the shoulder and say, "Sorry about that, buddy!"
---
I'd notice what they're studying and strike up a conversation about how cool that is and how much I love to explore different subjects, and have they heard of this book?
---
I would not rest until literally every piece of paper is back in their hands, organized, and I'm sure the person is 100% okay.
---
What are you going on about on a first date?
What do you think happens when we die?
---
No, don't worry about the bill! I've got it! Really, I insist!
---
Do you prefer company or solitude?
I would say company, but I don't mind going solo.
---
I don't really need others to have a good time. I am happy when I am around friends, but it's not the biggest priority for me.
---
Honestly, I prefer solitude – and maybe the company of animals.
---
Gotta have small curds ('cause they're cuter)
---
With active probiotics, always. Always down to try something new, too!
---
Whole milk, preferably large curd
---
Public speaking, life decisions... pretty much anything that's a big deal!
---
I'm really good at keeping my cool in the face of almost anything
---
Feeling trapped or limited in any way
---
I tend to worry about my loved ones
---
How would you fare in a zombie
apocalypse
?
My high energy and positivity would keep me going and going for a while, I think. As long as I had others to do some of the harder work.
---
I like to think I'm pretty strong and fit and smart, but I'm not sure how well I'd do in something THAT serious...
---
I'd hide out on a secluded island, I think. I've always wanted to rebuild civilization...
---
Lol I don't think I'd make it
---
And finally... choose a milk!
Share the quiz to show your results !
Subscribe to see your results
Which Milk Are You?
I'm %%personality%%
%%description%%
But I'm also %%personality%%
%%description%%