We tried that green stuff Kourtney K. eats in EVERY Episode
Verdict: It's dairy delicious and protein-powered!
Avocados are all the millennial craze, and coming from trendy Gen Y myself, I am also stuck on the avocado fad. How did the avocado trend begin you may ask? Maybe because we're the generation that's just into "greener" foods, healthier lifestyles, and sustainability? Well, for me, I do keep up with the Kardashians, and if you do too, you may have noticed Kourtney (the eldest sister, in case you're wondering) enjoying a green, thick, smoothie-like substance in a bowl. It is very interesting looking, to say the least, so of course less than 5 seconds after typing in Google from my smartphone, I was introduced to Kourtney's famous avocado pudding.
Avo-cuse me?!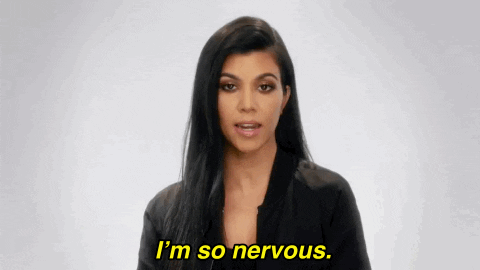 Wait, before I lose you, you need to hear me out. Kardashian fan or not, this avocado pudding is not only delicious and nutritious, but it is super easy to make. BONUS: It includes dairy!
Here's my take on the famous "'Avo Pudding" below!
Prep Time: 5 mins | Blending Time: 5 mins |Total Time: 10 mins
Servings: 2
Ingredients:
1 overripe avocado
1/2 cup 2% milk
 5  ounces Low-fat vanilla yogurt.
1 tablespoon Honey
Frozen banana (Optional to add flavor and to thicken)
How To Make:
Step 1: Put all the ingredients into the blender and blend 45-60 seconds. Pour into a bowl or to-go smoothie mug. Enjoy!
That's correct, few ingredients and steps! Anyone can do it, including this non-cooking, "entitled" millennial. By the way, you can enjoy this pudding any time of the day! I recommend enjoying at breakfast because it helps keep me full until lunch time. This pudding is also a great snack option for athletes because the protein can help you refuel after physical activity. Yet not all protein-containing foods are equal. Foods rich in high-quality protein, like dairy, eggs, meat, poultry, pork, fish and soy, contain all nine essential amino acids. Essential means your body cannot produce them on their own and must be obtained through food.
Did you know, in every 8-ounce glass of milk, you will find 8 grams of high-quality protein? Consuming at least three dairy servings throughout the day, such as a glass of milk or a cup of yogurt at each meal time, is an easy way to up your protein intake and reap its numerous benefits, such as building muscle. Milk and yogurt are also good sources of calcium, great for protecting your bones. Because nobody's got time for Osteoporosis, or even potential fractures! Not to mention, many of the Kardashian-loving teen girls are falling short on the daily calcium recommendation. Yes, research shows that girls between the ages of 14 and 18, on average, only consume HALF of the recommended 3 cups equivalent of dairy per day. This is especially alarming because they are building bones to last them for the next 60 or more years.
Go ahead, give this avocado pudding a try! I must admit, I agree with Kourtney when she says it's better to eat with a spoon rather than drinking from a to-go mug – I think it's because it gives me ice cream vibes. So basically, when you low-key want something sweet and want to eat healthy, opt for this alternative instead.
Did you try out this recipe? Share with us in the comments below!